Fingu's sustainable development is targeted to achieve shareholders' interests maximization, fulfil corporate development harmonized with the society and perform social responsibility, according to ISO26000, EICC and customers' requirements and based on strict persistence in compliance with "ethic, performance, sustainable development".
Fingu, as a listed company, always communicates with stakeholders proactively, understands social responsibility requirements for products, service and their process raised by the stakeholders, incorporates the requirements into operation of company strategy and value chain, improves performance of social responsibility under cooperation with customers, and helps the customers to achieve cost effective and diversed competitiveness through the social responsibility.
Fingu regards its employees as the most valuable asset, and hereby insists on employees-oriented policy and sets talent strategy as a key point for corporate development. Fingu strictly complies with applicable laws and regulations, such as Labor Law of the People's Republic of China, Law of the People's Republic of China on Employment Contracts, Law of the People's Republic of China on the Protection of Rights and Interests of Women, respects and protects employees' personal rights and interests, concerns about employees' health, safety and satisfaction practically, stresses on talent fostering, achieves co-development of the corporation and the employees, continuously distributes fruits of corporate development to all employees, and establishes harmonious and stable labor relations. In order to enrich employees'leisure life, the company has initiated various activities every year, such as travelling, artistic show, photograph exhibition, sports games, employees sodality; and to activate corporate atmosphere and enhance employees' awareness of active competition, periodical activities such as excellence appraisal, skill contest, honor & praise, and given specific material and spiritual encouragement. Any employees can take legal holidays. The company has also launched employees satisfaction investigation regularly through anonymous scoring & voting, held communication meeting frequently, and listened to employees' opinions and suggestions concerning corporate development, daily living and management improvement.
The company strictly complies with applicable laws and regulations related to occupational health & safety and environmental protection, and has established perfect occupational health & safety and environmental management system, which has been certified by OHSAS18001 (Occupational Health and Safety Assessment Series 18001) and ISO14001 (International Standard on Environmental Management System).
The company has built anti-corruption & confidential information management system to effectively prevent events such as corruption, unauthorized disclosure of the confidential information, and developed countermeasures accordingly.
In addition, the company has established specific CSR management system for suppliers, cooperated with the suppliers closely and incorporated social responsibility requirements into purchase agreement and procedure to ensure that the suppliers integrate the requirements into their business process and daily operation, and to urge their continuous improvement. Meanwhile, the company requires the suppliers to communicate the requirements to their suppliers tier by tier in the same way and work on building sustainable industrial chain and commercial ecosystem.
Based on or beyond compliance, Fingu is always committed to building a sustainable developing corporation.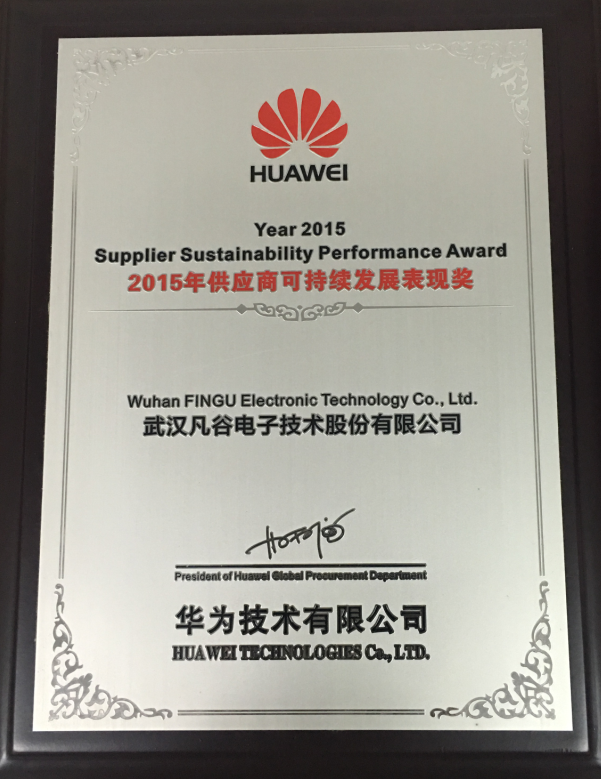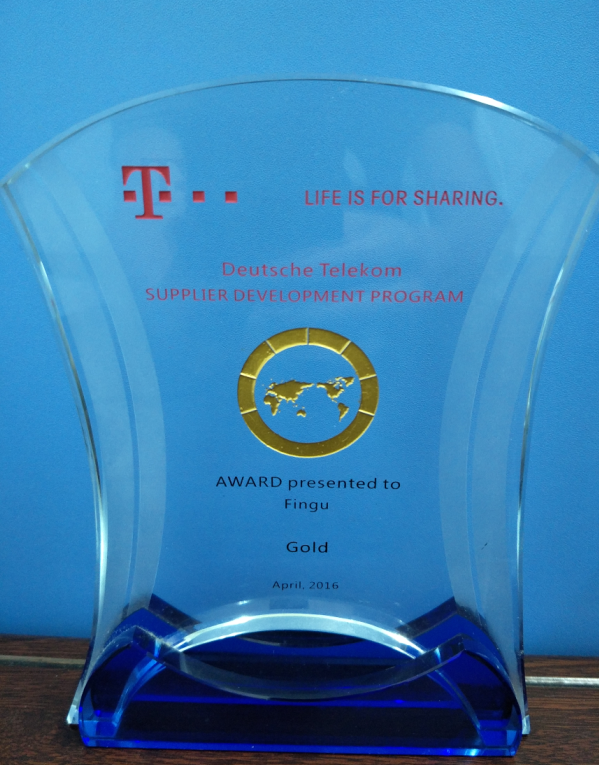 Supplier Sustainability Performance Award Supplier Development Program, Gold Award